Chiropractor Broken Arrow, OK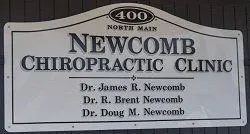 This page provides you with practical information about Newcomb Chiropractic Clinic. It includes descriptions of our office location, including a map and directions, hours, appointment scheduling, insurance acceptance and billing policies.
Broken Arrow, OK Chiropractor
Newcomb Chiropractic Clinic Inc.
400 N Main St
Broken Arrow
,
OK
74012
918-251-4239
918-258-7200
fax
Call For Pricing Options
Office Hours
Monday:
08:00 AM - 11:30 AM
01:30 PM - 05:30 PM
Tuesday:
08:00 AM - 11:30 AM
01:30 PM - 05:30 PM
Wednesday:
08:00 AM - 11:30 AM
01:30 PM - 05:30 PM
Thursday:
08:00 AM - 11:30 AM
01:30 PM - 05:30 PM
Friday:
08:00 AM - 11:30 AM
01:30 PM - 05:30 PM
Saturday:
08:00 AM - 10:30 AM
Click here for door to door driving directions
Appointments
We know you have many choices when choosing a Chiropractor in Broken Arrow, OK, so we have made requesting an appointment a simple process via our Web site. If, for any reason, you cannot keep a scheduled appointment or will be delayed, please call as soon as possible. Charges may be incurred for appointments cancelled less than 24 hours before scheduled appointment time.
Payment Policies
At Newcomb Chiropractic Clinic, we are contracted with most major insurance carriers. All patient responsibilities such as deductibles, co-pays, and co-insurance are collected at the time of your appointment. For our patients who are under insured or uninsured, we have contracted with Acclaim! Card. This company offers a discount card that gives the holder a discount at our clinic.
Insurance and Billing
We accept most traditional insurance plans. Please contact our office to verify acceptance of your plan. Qualifications for insurance coverage may differ due to the uniqueness of each procedure.
Accepted Insurance Carriers
Blue Cross Blue Shield
Medicare
United Health Care
Community Care
Health Choice
Most other major insurance plans
NOTE: We are no longer in network with Aetna or Cigna
Emergency / After Hours Information
In case of an emergency, Dr. Doug can reached at (918) 809-1644. Our 24-hour answering service is available for all after hour non-emergency messages.